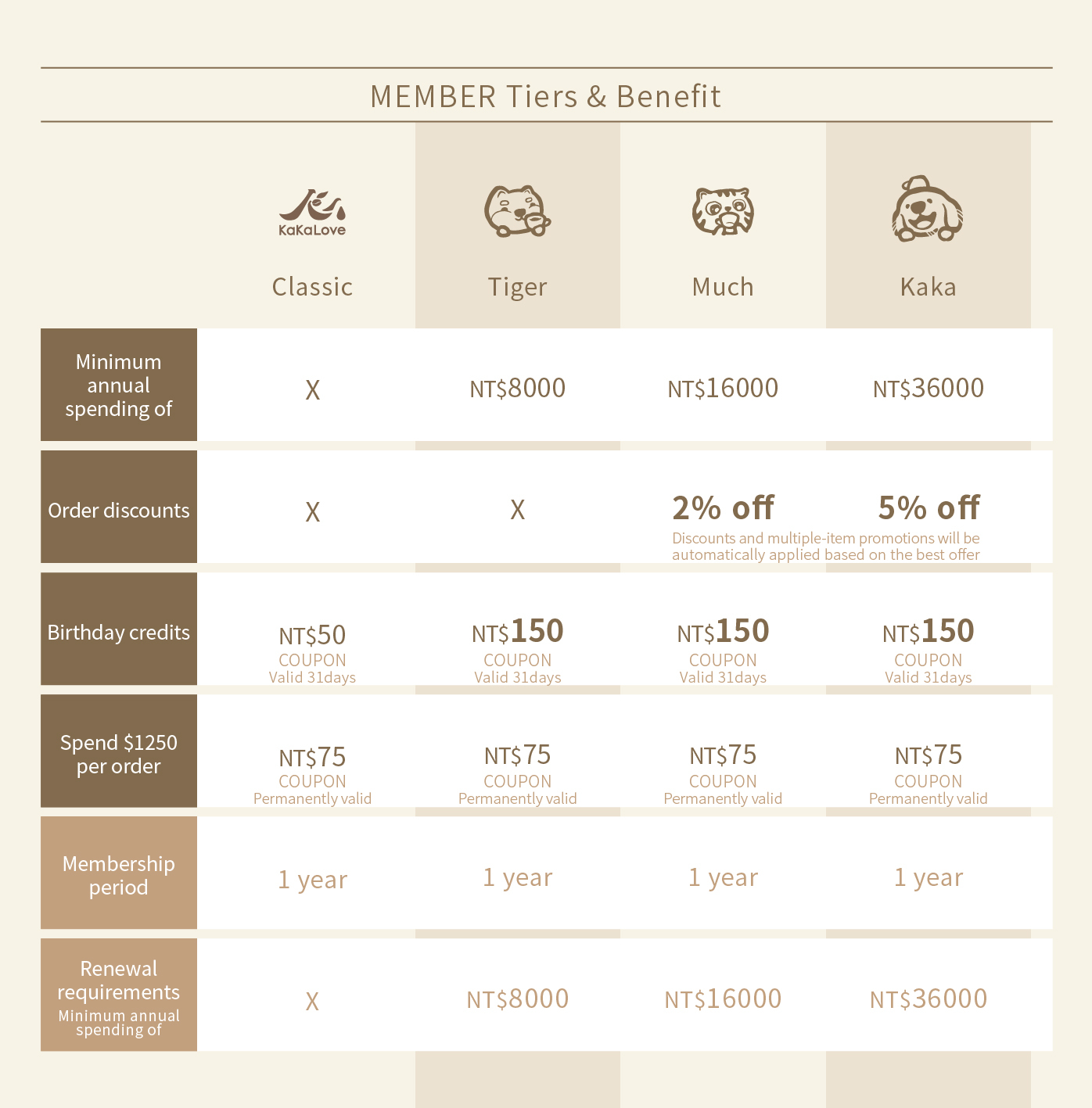 Membership Upgrade and Period
When an order is [ Paid ] and is NOT [ Canceled ], the membership spending will be diagnosed on the next morning at 12 a.m. Once the cumulative spending is eligible for the next level, membership will be upgraded automatically.


For example: 
If a member upgrades on 1st Jan 2023, 12 a.m., his membership period is 1st Jan 2023 - 31st Dec 2023.  On the next morning of membership expiration date(1st Jan 2024), at 12 a.m., the annual spending will be diagnosed for membership extension or downgrade. 
Within this period, if his total spending is eligible for an upgrade, i.e. he is upgraded to "Much" on 15th May 2023, the membership period will renew to 15th May 2023 - 15th May 2024.




Each member can extend for 1 year when total spending on our official website within the membership period reaches the renewal requirements (see table above).
For example:  
If the membership expires on 10th Oct 2024. On the next morning at 12 a.m., system will recall its spending from 11th Oct 2023 - 10th Oct 2024 as a reference for membership extension or downgrade.
Attention
1.  Member discounts and website promotions will be automatically applied based on the best offer. Credits are not subject to the limits.


2.  Birthday credits will be automatically available at 12 a.m. on the date of birth, valid for 31 days, counting from the first date of issue.


3.  Order Reward Credits only can be redeemed at the next purchase, and are valid permanently.


4.  Echos Creative Co., Ltd. reserves the right to change, alter, or cancel these Terms and Conditions from time to time, without any prior notice. 
5.  The benefits of the memberships will be notified by email.